PACER For SALE in NORTH AMERICA:
You can add your PACER for sale here for free if you're selling it (altough you've to have a good reason to do so ;-D ), just let me know when it's sold to have an up-to-date website! Click on the pictures to see them BIGGER...
USA
---
1976 AMC PACER 232 AUTO WITH 79,000 ORIGINAL MILES. NO LEAKS OR
PROBLEMS. DRIVEN ALL OVER THE COUNTRY AND INTO CANADA. NEW ALUMINIZED
DUAL EXHAUST,BRAKES,GASKETS,WHITE LETTER SPORT TIRES AND NEW 15" X 7"
CRAGAR S/S WHEELS. AIR SHOCKS, LEATHER SEATS IN REAL NICE SHAPE WITH
NO RIPS. BLACK INTERIOR WITH BURGUNDY SEATS. NEW PIONEER C.D PLAYER
AND SPEAKERS. HAVE ALL ORIGINAL WHEELS, TIRES AND HUB CAPS AS WELL AS
TAPE DECK TO GO WITH THE CAR OR WILL RETURN IT TO ORIGINAL FOR A
LOWER COST LESS THESE ITEMS. VERY FUN CAR TO DRIVE AND ENJOY. DRIVES
LIKE A DREAM WITH NO VIBRATIONS OR PROBLEMS. ALL GAUGES WORK GREAT AS
WELL. BODY IS LIGHT CREAM AND HAS HAD AT ONE TIME SOME FILLER ADDED
TO THE QUARTER PANELS BUT IT STILL LOOKS GOOD. OTHER THAN THAT THE
BODY IS VERY STRAIGHT AND CLEAN. NO DINGS! ALL GLASS IS VERY NICE AND
THE CAR HAS WORKING A/C BUT DOES NEED TO BE RE-CHARGED OR CONVERTED
TO R-134. MUST SEE! AS IS WITH ALL THE ORIGINAL PARTS TO BOOT
$3500.00 OR $2500.00 WITHOUT MAG WHEELS,TIRES AND C.D. PLAYER. THANKS
FOR THE AD! (765)282-5381
Taken from the AMC-LIST on 05/27/2003
---
Hi, I have a 1977 AMC Pacer D/L station wagon for sale.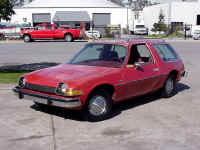 258 6-cyl engine, auto trans, power steering, power brakes, disc brakes, radio, heater, rear window defroster, factory roof rack. Ruby red with red interior. Runs fine and is pretty straight. $3,500 and the car is in the San Francisco area. If your interested call me for the details or tell a friend that this Pacer wagon is for sale.
Thanks, Tony - 650-348-8269
Date 03/29/2003
---
HERE IS MY PACER FOR SALE . IT IS A DANDY!
ALL NEW WHEELS AND TIRES,BRAKES,DUAL EXHAUST,CARBERATOR,INTAKE MANIFOLD,SHOCKS (AIR IN REAR), CD PLAYER,SPEAKERS AND RACK. VERY NICE INTERIOR. RUNS AND DRIVES LIKE A '76 PACER WITH CHERRY BOMBS. FUN LITTLE CAR. ASKING $3700.00 WITH FACTORY WHEELS ,TIRES AND HUB CAPS INCLUDED AS IS OR $2700.00 WITHOUT THE NEW CRAGAR WHEELS. THANKS A LOT. JEREMY ORTH 1-888-288-8860 EXT:125 LOCATED IN INDIANA.
Date 04/25/03
---
The car was on sale in december 2001...
EVA Pacer Wagon 2,847 actual miles WOW!!!!!

Vehicle Description

For sale is a 1978 Pacer Wagon that was bought new by Electric Vehicle Assn. ( EVA ) out of New York for the purpose of building an electric vehicle for commuting. The electric motor was mated to the original automatic. My understanding was it would run up to 80 miles an hour but the batteries wouldn't last very long. I bought the car in 1987 and the motor was long gone. I have stored it inside ever since. So what I have for sale is a rust free body with 2,847 actual miles and a near mint interior. All the pacer emblems were removed and replaced with EVA emblems. Still has the gauges between the dash and the floor for the electric motor and the tag on the door for the EVA. So If restored the way it is it would be a real conversation piece. I also have either a V-8 or 6 cyl. parts car that I would sell at the same time for the parts to rebuild this one. The car has no power options. Body has some minor dents and a hole in the drivers back quarter were there charging system for the batteries hooked up. Thanks for looking. Have a Merry Christmas and Happy New Year.

Vehicle Condition

No motor or radiator. The original tires have weather checks in them. The trunk floor was cut out to make room to store the batteries.

Terms of Sale

Would like the car paid for within 10 days. Talk to me before bidding if you need more time. I will store the car longer if needed. Will also deliver at 65 cents a mile. I have the right to sell this car at any time if I get the right offer until the reserve is met. Please call if any questions at 218-647-8569. Thanks Jim