The great history of love of most faithful Pacer and is probably that of Pacer and... RUST !
Here in sharp red on these two pics "the risky zones" which it is necessary to check on each Pacer!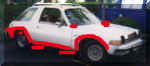 Around the wheels, as on many other cars,
The underbody frame as on all the cars I know,
The bottom of the back fenders on the two sides, just as inside around the wheel, there is a small space where dust get stuck which once wet help the appearance of rust...
The bottom of the gates, and just under the windshield, in the neighborhoods of the engine of windscreen wipers. If you don't pay enough attention, the rust which develops at this place can cause the crack of the windshield!

With the back, a point of rust specific to Pacers, and especially unexplainable, it's under the number plate that a rust hole often appears.
The bottom of the gate of the back door is also a good place for rust, more particularly on the station-wagon...
Last detail, the tank of gasoline is also extremely often rusted on the top between the car's body and the tank itself...
But if you consider all those repairs opportunities as a chance to touch the heart of Pacer: its corrugated body!