Welcome to The AMC Pacer's Full Story website!
Hi Everybody!
Welcome to my site dedicated to one of the most unbelievable car ever built,
THE
The design of the car came too early for the World at that time and nowadays it would fit easily into the traffic...
Anyway, surf thru my site, visit all those links to other AMC's and Pacer websites with a mind as OPEN WIDE AS THE PACER IS OPEN WIDE!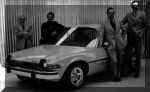 Here the Pacer creator's picture! Click on it to see them fully happy around their Baby!
Mandrin Machigan, Dick Teague, Vince Geraci, Nixon Bob are their name! Never forget them as they MADED the dream-car becoming true!
Visit all those Pages and learn how to love the Pacer more then ever you thought it would be possible!
*** Last modified page, with pictures additions
° Only minor changes, like grammar corrections, but no new pictures!
This page was last updated on 10/10/03.